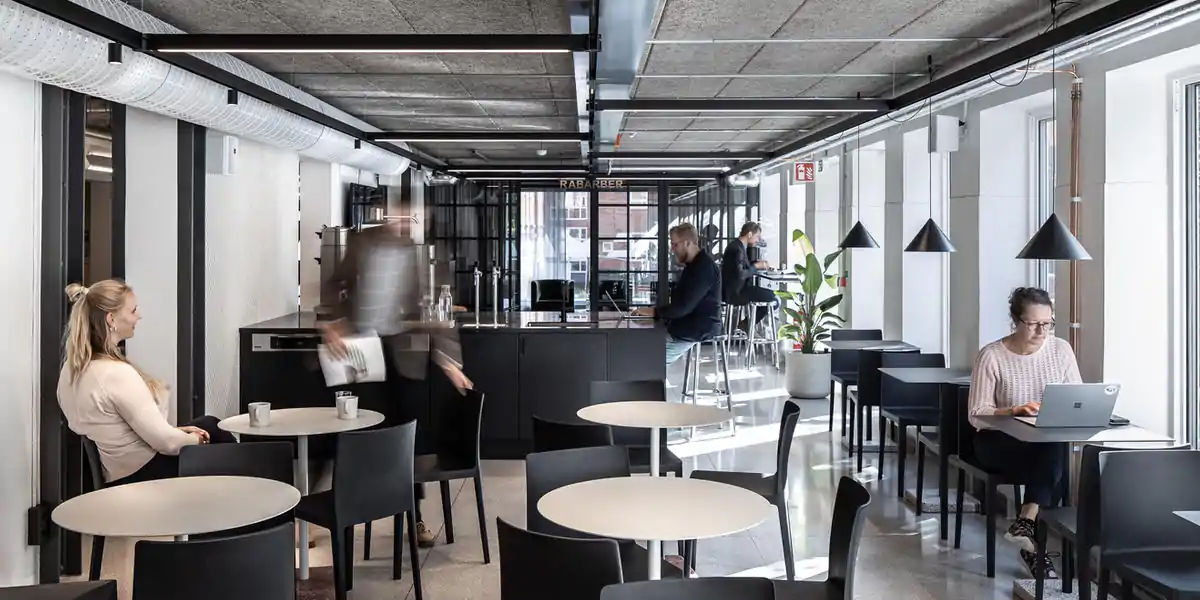 Akademiska Hus väljer att utöka satsningen på Accessys mobila nyckeltjänst. Först ut var bolagets lokaler för A Working Lab (AWL) i Solna, ett co-workingkoncept för akademi och näringsliv på campus. Foto: Johan Eldrot
Akademiska Hus installs Accessys mobile key service.
Akademiska Hus chooses to expand its investment in Accessy's mobile key service. First to go live was the company's premises for A Working Lab (AWL) in Solna, a co-working concept for academia and business on campus. The next step will now be to install it in more AWL environments around the country. Accessys mobile key service offers secure and smooth handling of locks and doors via the mobile.
Many property owners want to enable local sharing in a simpler way and at the same time have a smoother handling of keys and cards. Accessy's solution takes care of those problems in a safe and efficient way. Akademiska Hus' first investment was the premises for A Working Lab Innomedicum on Campus Solna, the company's coworking concept developed for companies and activities close to the university. There are a large number of start-ups and researchers from all over the world who share common rooms and different types of lab equipment. Akademiska Hus is now preparing to take the solution on to A Working Lab in Umeå and Gothenburg as well as its own local offices in several locations around the country.
"With Accessy, we can enable simpler local sharing and increase the utilisation rate thanks to smooth digital access. A Working Lab's environments work excellently as a test environment for this type of digital access solutions and we are learning how to put the investment into operation on a larger scale. In this way, we contribute to a change that benefits both our customers, our own business and the industry at large." Ulf Däversjö, Director of Innovation and Sustainable Development at Akademiska Hus.
Accessy's service provides the ability to manage all locks and doors in a safe and smooth way with the mobile phone. It will also be easier to share connected doors between organizations and different users. Accessy is today integrated with the market's leading access control system.
"Akademiska Hus was out early with A Working Lab, that they now choose to install Accessy in a much larger part of their portfolio feels fantastic. Now we are seriously moving the key to the mobile, which increases security and makes it smoother for all users, in addition, it will be easy to share locations in a more flexible way. The installation itself is simple as we are already integrated with the systems used, such as Integra, Assa Arx and RCO and Vanderbilts Omnis." Håkan Eriksson, CEO of Accessy AB.
Akademiska Hus, together with a number of other property owners, is a co-creator of Accessy, which was started in 2020.
For more information, please contact:
Ulf Däversjö
Direktör för Innovation och Hållbar Utveckling
Akademiska Hus
Telefon: 072-544 24 17